How to Make a Summer Vacation Slideshow
People would like to have some trips in summer vacation with friends or whole family and took lots of photos. Now you can use iPixSoft Flash Slideshow Creator to make photos more funny and vivid. This step by step flash slideshow tutorial will guide you to turn photos into a summer vacation slideshow and share online conveniently.
Summer Vacation Slideshow Sample:
Here's what you'll need:

1.Summer vacation photos(JPG/JPEG/GIF/BMP/TIF/DIB) and background music.
Step 1 : Install Flash Slideshow Creator and Create a New Slideshow
Click here to download Flash Slideshow Creator and install it. Launch this program, you will see the "New" button, afterwards, click it to create a new slideshow and name it.

Step 2 : Import your photos and add a background music
During your summer holiday, I believe that you would take many photos. Click the "Photo" pannel to import some attractive photos and make proper edition with Brightness, Contrast Crop, Rotate, Effect, etc. In addition, process with a flash template, which makes a better look for the slideshow. Watch Free Flash Slideshow Templates >>

Step 3: Decorate the slideshow with Transition effects,Texts
Each moment in vacation is a fleeting time, you should add some Intro and End, Text, Sound, Clipart for your slideshow to its precious and unique. Besides, you can set the photo transition and duration to make it more satisfaction for eyes.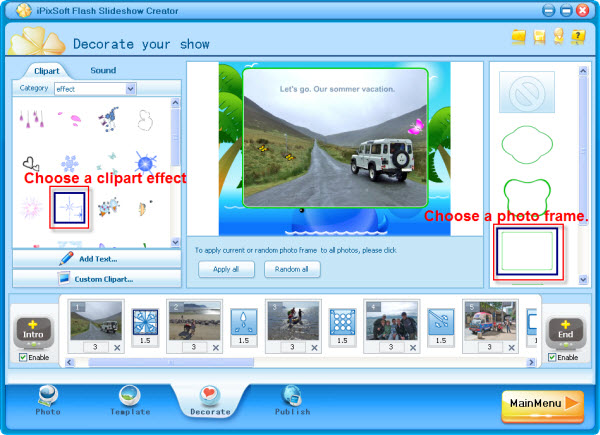 Step 4 : Publish the Summer Vacation Slideshow
Finally, click the "Publish" pannel and set output options. For instance, Size, Flash option, Photo option and Loop Style. Above all, preview your own slideshow and make the SWF File. Then you can send to your friends by email to share your good time.